(1980/12/18 – Unknown)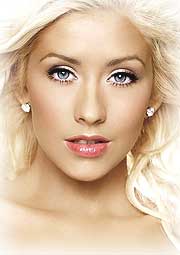 Cantante estadounidense
Una de las cantantes estadounidenses más populares.
Canciones: Beautiful, Candyman…
Género: R&B, pop, soul
Padres: Fausto Xavier Aguilera y Shelly Loraine Fidler
Cónyuges: Jordan Bartman (m. 2005; div. 2011)
Pareja: Matthew Rutler (2010)
Hijos: Max Liron Bratman, Summer Rain Rutler
Nombre: Christina Maria Aguilera
Altura: 1,57 m
He was born on December 18, 1980 in Staten Island, New York.
Daughter of Fausto Xavier Aguilera, Ecuadorian, and Shelly Loraine Fidler, Irish, both military who traveled to Europe with the "youth symphony orchestra".
Her parents separated while she was very small. He lived in places like New Jersey, Texas, New York and Japan.
After the divorce of her parents when she was six years old, along with her younger sister Rachel and her mother (who later remarried), she moved into her grandmother's house in Pittsburgh, Rochester, New York. After many years of estrangement, Aguilera reconciled with his father in 2012.
At the age of eight, he appeared on the "Search for the Star" program. At the age of ten he sang the national anthem for the Pittsburgh Steelers and the Penguins. With twelve he worked in the "new Mickey Mouse Club", where he would stay for two years.
In early 1998 she was invited to audition for the animated Disney movie "Mulan" and recorded the song "Reflection".
In her first album she is shown as a sparkling girl who makes dance with the first melody of the song "Genie in a bottle". His single "Blessed" was produced by Travon Potts.
On his tour of Japan he sang along with Sheryl Crow and Diana Ross. He also sang for the president of the United States, Bill Clinton, on the televised spacecraft "Christmas in Washington."
On February 24, 2000 he won the Grammy Award for the best new artist. Released "Stripped" in 2002 and sold more than ten million copies, and later "Back to Basics".
In 2008 it appears his first compilation album titled "Keeps Gettin 'Better: A Decade of Hits".
His fourth studio album was called "Bionic" released in June 2010. In that same year he premiered the movie "Burlesque", which co-stars with Cher.
He participated as judge in the musical program "The Voice" with singers like Adam Levine, with whom he collaborated in the single "Moves Like Jagger" and with Cee Lo Green and Blake Shelton with whom he recorded the studio album, "Lotus" in 2012.
Aguilera released their eighth studio album, entitled Liberation, on June 15, 2018.
Winner of four Grammy awards and a Latin Grammy Award (first American to win this Grammy), between fifteen nominations and three, respectively.
Married to Jordan Bratman from 2005 to 2011, her son Max Liron was born on January 12, 2008. Aguilera engaged with Matthew Rutler in February 2014. The couple has a daughter, born in August 2014.
Discography
Studio albums
1999: Christina Aguilera
2002: Stripped
2006: Back to Basics
2010: Bionic
2012: Lotus
2018: Liberation
Albums in Spanish
2000: My Reflection
Christmas albums
2000: My Kind of Christmas
Compilation albums
2008: Keeps Gettin 'Better: A Decade of Hits
Filmography
Shark Tale (2004)
Shine a Light (2008)
Get Him to the Greek (2010)
Burlesque (2010)
Pitch Perfect 2 (2015)
The Emoji Movie (2017)
Zoe (2018)