(1956/04/03 – Unknown)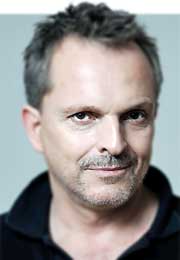 Spanish actor and singer
One of the best-known pop singers.
Songs: Linda, Amante bandit, Sevilla, Don Diablo …
Pop genre
Parents: Luis Miguel Dominguín and Lucia Bosè
Couple: Nacho Palau
Children: Telmo, Tadeo, Ivo, Diego
Name: Luis Miguel González Bosé
Height: 1.86 m
Miguel Bosé was born on April 3, 1956 in Panama.
Son of the Spanish bullfighter Luis Miguel Dominguín and the Italian actress Lucía Bosé, who separated when Miguel was twelve years old. From four to seven years he spent his summers in Cannes, at the La California farm of Pablo Picasso.
He studied at the French Lyceum in Madrid for fourteen years.
Miguel Bosé studied theater with Lindsay Kemp and made his film debut at age fifteen.
songs
With fame throughout Latin America and in European countries such as Italy, France, Belgium, Holland and England. In the seventies he quickly became a juvenile idol with consecutive successes: Te Amaré, Anna, Bravo boys, Linda, etc.
In 1982 appeared Made in Spain but it is in 1985 with the appearance of his album Bandido when his music takes a definitive turn; One year later he signed a contract with Warner.
He recorded Salamandra (1986) followed by a year later XXX and in 1990 Los chicos no Lloran, in 1991 he appears Directo '90, live record recorded during a concert in Barcelona where they appear songs like Salamadra, Los Chicos No Lloran, Bandido , Nena, Sevilla, Duende and others.
In 1993, it reappeared opening a new musical stage, Under the Sign of Cain.
Laberinto is the second title of what will be a trilogy that began two years ago with the album Bajo El Signo De Cain; author of the lyrics of all the songs.
In 1994 he appeared in the films Felpudo Maldito by Josiane Balasko and Libertarias by Fernando Aranda and in 1997 he worked on two more films, Oui by Alexandre Jardin and La mirada del Otro by Vicente Aranda.
In 1998, he took to the market Eleven Ways to Put on the Hat. In 1999, after selling 4,000,000 albums worldwide, an abstract compilation album of his last 15 years of career was released: The best of Miguel Bosé.
After a period marked by the presentation of the Seventh Cavalry program for TVE, Bosé embarked in the year 2000 on a very long tour, Girados, together with the former singer of the Mecano group, Ana Torroja, which will take them to many cities in Spain and Latin America reviewing the extensive musical career of both artists and interpreting many of their songs in duo. The tour was published on a double CD recorded live.
In 2001 Miguel Bosé published a new study work, Sereno, and three years later he presented the project Por vos muero (2004), where Alejandro Sanz collaborates; Bosé was godfather of his daughter Manuela's christening.
In 2005, Velvetina launched, work recorded at the same time that Por vos muero. The DVD that accompanies one of the editions of the disc includes 13 videoclips of each of the songs.
In 2007, Papito was put on sale, another compilation of his successes sung in duo with performers of international stature. He achieved commercial success in Mexico achieving the platinum record.
On Sunday, September 20, 2009, he participated with fourteen other groups and soloists in the Peace Without Borders II Concert held in Havana, Cuba.
On Monday, September 21, he finished his PAPITOUR at the closing of the 2009 Zacatecas Fair.
On Wednesday, March 17, 2010, he received Colombian nationality in a ceremony that took place in the government palace, headed by President Álvaro Uribe. It has the Spanish, Panamanian, Italian and Colombian nationalities.
In 2011, Miguel Bosé reported that he was the father of four children: Telmo, Tadeo, Ivo and Diego, thanks to the surrogacy.
Discography
1975 Soy / For Ever For You (single)
1976 It's So Easy … (It's So Easy …) / Who? (simple)
1977 Linda
1978 Miguel Bosé
1979 Girls!
1979 The peasant mass
1980 Miguel
1980 Madrid (Japan)
1980 Children's things
1981 Beyond
1981 Singolo
1981 Stay The Night
1982 Tutti-Frutti (Brazil)
1982 Bravo boys! The great successes of Miguel Bosé
1982 Bravi Ragazzi
1983 Made in Spain
1983 Milano – Madrid
1984 Bandido1986 Salamander
1987 XXX [Spanish Version]
1988 XXX [Spanish Version]
1990 Boys Do not Cry
1991 Direct '90
1993 Bandit
1993 Braves Boys
1993 Girls
1993 Beyond
1993 Miguel
1993 Miguel Bosé
1993 Dear Miguel Querida Ana
1993 Made in Spain
1993 Under the Sign of Cain
1994 Dear Miguel
1995 Under the Sign of Cain Tour 93/94
1996 Labyrinth
1996 Pedro Y El Lobo
1996 Personality
1997 Labyrinth, Vol. 2
1997 Face to Face
1998 Eleven Ways to Put on a Hat
2000 Turned
2001 Sereno
2004 For you I die
2005 Velvetina
2007 Papito
2010 Cardio
2012 Papitwo
2013 Final Collection
2014 I love