(1989/12/13 – Unknown)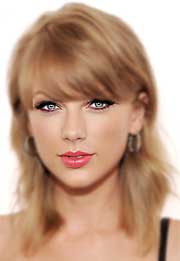 American singer and actress
null
One of the most influential celebrities.
Songs: Love Story, Shake It Off …
Genre: Pop, country
Parents: Scott Swift and Andrea Gardner Finlay
Relationships: Joe Jonas, Taylor Lautner, John Mayer, Jake Gyllenhaal, Conor Kennedy, Harry Styles, Calvin Harris, Joe Alwyn
Name: Taylor Alison Swift
Height: 1.78 m
He was born on December 13, 1989 in Reading, Pennsylvania, United States.
Daughter of Scott Swift, financial advisor, and Andrea Gardner Finlay, a housewife who previously worked as an investment fund executive. Her brother Austin is two years younger than her.
He spent his childhood on an 11-acre farm where Christmas trees were grown.
He attended school at the West Reading Elementary Center and the Wyomissing Area Junior / Senior High. Being very small, she proclaimed herself the winner of a national poetry contest with her poem "Monster In My Closet".
At the age of nine he already had an interest in musical theater and started acting in productions of the Berks Youth Theater Academy. He composed songs and started singing karaoke competitions very early on.
When his family moved near Nashville (she was 14 years), he wrote some songs with songwriters in the area and through participation in a contest of The Bluebird Café, he met Scott Borchetta, who offered him a recording contract with Big Machine Records
She recognized Shania Twain as her biggest influence, although she is also a Britney Spears fan.
With title homonymous, his first album, Taylor Swift, premiered on October 24, 2006, with country and pop songs composed during his first year of high school. In October 2007, she was awarded the Nashville Composers Association prize for the best singer and songwriter, being the youngest artist to receive it until that date.
He recorded the Christmas EP Sounds of the Season, released on October 16, 2007. In summer 2008, went on sale Beautiful Eyes, another EP in its first week sold 45,000 copies and entered the No. 1 on Billboard's Top Country Albums chart and 9th in the Billboard 200.
Her second studio album, Fearless, was released in the United States on November 11, 2008, with all the songs written or co-written by herself. It sold 6,173,000 copies in the United States between November 2008 and May 2010, exceeding 10,000,000 in the rest of the world. He debuted at No. Billboard 200, selling 700,000 copies in his first week as the country's best-selling country album. His first single Love Story became a pop and country hit.
In 2009 she appears for the first time on Saturday Night Live, and at the 44th edition of the Academy of Country Music Awards, she was presented with the "Album of the Year" award, being the youngest artist to receive it. Fearless became the most awarded album in the history of country music.
In January of 2009 his first tour is presented, with which he visited 52 cities in the United States and Canada in six months. The tour began on April 23 in Evansville, Indiana.
He received the Best Female Video award granted by the MTV network by You Belong With Me.
He made his film debut in early 2010 in the movie Valentine's Day. For the soundtrack he contributed the song Today Was to Fairytale, which sold 1,000,000 copies in its first week.
He later collaborated with John Mayer in the third single from his album Battle Studies: Half of My Heart. On July 20, 2010, she announced that her third album, Speak Now, would be released on October 25 of that same year with 14 songs written by her.
His first single was Mine released on August 4. He presented his new tour on September 7, 2010 starting in February 2011 in Osaka, Japan, and with a total of 111 concerts in 18 countries lasted until 2012.
In 2012, he contributed two compositions for the movie The Hunger Games. The songs were Safe & Sound and Eyes Open.
His album Red premiered on October 22, 2012; before, his first single We Are Never Ever Getting Back Together, was released on August 13, 2012 and achieved his first number one on the Billboard Hot 100.
On September 7, 2012, he presented his next single Ronan, dedicated to a child who died of cancer at age 4. Red was nominated for the 2014 Grammy as "Album of the Year" and "Best Country Album".
In his next work was titled 1989 and was launched on 27 October 2014. Shake It Off, the first single entered the No. 1 on the Billboard Hot 100 on August 27, 2014 and the next, Blank Space, was snatched herself number one.
Winner of 11 American Music Awards, 7 Grammy Awards, and 6 Country Music Association Awards. On August 30, 2015, the singer, with 25 years, in MTV awards, won the Video of the Year award, with Bad Blood, in addition to better pop video with Blank Space and the best female video.
According to Forbes magazine's The Celebrity 100 list, Swift earned $ 18 million in 2009, $ 45 million in 2010, $ 45 million in 2011, $ 57 million in 2012, $ 55 million in 2013, and $ 64 million in 2014.
Reputation, which launched two promotional singles, Gorgeous and Call It What You Want, was released on November 10, 2017 and sold more than one million copies in the United States, with
being the best selling album of the year in the country, and two million copies in the rest of the world during its first week.
He was dating singer Joe Jonas from August to October 2008, and actor Taylor Lautner from October to December 2009. From the end of 2009 to 2010, he got involved with musician John Mayer; then with the actor Jake Gyllenhaal, from October to December 2010. Later he would interact with the politician Conor Kennedy from July to September 2012, and then with Harry Styles, singer of One Direction, from October 2012 to January 2013. In May of 2015, he went to live with Scottish DJ and record producer Calvin Harris, whom he met three months ago, when they both attended the BRIT awards. Taylor introduced her new partner to her parents during a family visit. On December 8, 2017, she was seen, for the first time, by the hand of her new boyfriend Joe Alwyn, a British model, aged 26.
Discography
Taylor Swift (2006)
Fearless (2008)
Speak Now (2010)
Network (2012)
1989 (2014)
Reputation (2017)
Filmography
2009 Jonas Brothers: The 3D Concert Experience
2009 Hannah Montana: The Movie
2010 Valentine's Day
2012 The Lorax / Voice
2014 The Giver
TV
2009 CSI: Crime Scene Investigation Episode: "Turn, Turn, Turn"
2013 New Girl Episode: "Elaine's Big Day"